After the shortest Father's Day, we survived the world's longest Monday. Mary was the only one to sleep on the plane so it was hard to stay awake.
...But we tried!
After picking up our residence, and a quick trip to Aldi, we found this sweet spot in the gravel pits. Packed like sardines in a crate of sardine cans, we enjoyed hot showers, and a saloon. Luckily three of the five slots in the Coke machine were filled with beer. One had Coke the other water...all the necessities.
Half of the second day in Munich was spent looking for a parking space for the old homestead. Then a wiener and beer at Hofbrau Haus (We like to call our waiter the Hofbrau grouch) and a peek at Glockenspiel Very nice!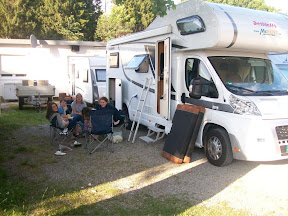 - When we returned the kids enjoyed a quick game of putt putt on the nicest concrete course I have ever seen! (Are you paying attention Frank H?)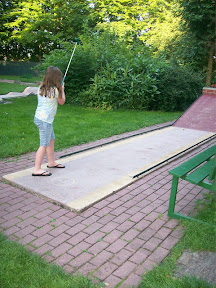 And a moment by the lake.
Beautiful drive to Salzburg today.
Blogged by Ellen!
Location:Munich