High tailing it to the south of France, we were distracted by the Pisa sign.....so we followed it!
That is not out in the middle of nowhere by the way...from the pictures I have seen, I always wondered why some idiot built that tower in a field... Guess that makes me the idiot.
Trying to find the next campsite wasn't so easy. With curled toes, and white knuckles, we experienced the terror of having to back up on narrow, busy streets at night while the GPS had a brain fart. We finally discovered a sign for the highway and hit the road. Woke up in a rest stop of a town we didn't know and drove to the French Riviera
A few hours in St Maximes across the bay from St Tropez...
Going against the grain...keeping our tops on...
-
.....and our eyes averted
Jim found ice (first we've seen since NY, rare commodity in Europe) and bought a bag... We enjoyed some cold drinks... Showered the sand off of our toes and hit the road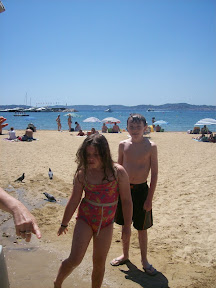 Stayed near Nimes. We drove into town and found out that Nimes is actually really cool. They have a coliseum that is still complete, and a hopping place... Wish we had found a parking space! We forgot to take any pics, so you'll have to make the trip yourself someday.
Used the iPad to "FaceTime" the Bartletts on Carrie's iPod. Amazing we were in a campground in France at midnight on a video call to someone in their living room in Dayton, Ohio USA.
Heading to Barcelona to see Kate Dowrey!
Posted using BlogPress from my iPad 2
Location:Northern Italy / French Riviera