Day two in Rome went a little better. It's like we were locals. Headed to St. Peter's Square (which really is round, those crazy Italians).
The priest told us there was a noon mass with the Pope... W really didn't understand a lot of what the pope was saying, but that was the speediest mass ever. Then there was a benediction in about thirty languages. Amazing... I think the only language he missed was pig Latin. We knew were in the right place when he finally blessed us in English. Here is a picture.
Video to posted later where you can hear his blessing!
After mass we started toward Trevi Fountain on foot
...the start of an amazing 8 1/2 hours on foot ending at the Coliseum.
Lots of cool places in between....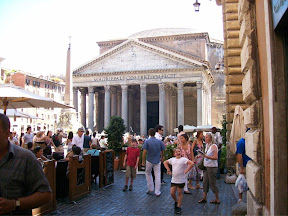 We had the Cedar Point taxi ride back to the campground, didn't know cars could fly......
French Riviera, here we come!
- Posted using BlogPress from my iPad 2
Location:Roma