Took the train in again. Went to the Notre Dame........
with everyone...and although some of the kids are getting tired of churches, they could still smile for the camera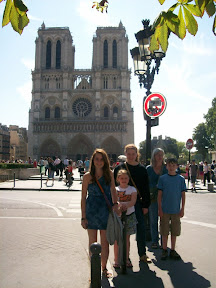 We then hustled off to the station to ship Caroline off to her friend. After waiting in line for what seemed like eternity to get her tickets, we had about two and a half seconds to get her to the platform.
We took the reduced family to the Louvre, standing in line during the hottest part of the day to buy tickets.
Once inside, we scrambled through huge crowds and shot past unbelievable works of art
(Where pieces with a sense of humor gave passers by the finger.)
so that we could see the Mona Lisa
and the shattered Venus de Milo .... It was awesome! (except that we missed the Faberge eggs)
I can't say we strolled through the tuileries, because, believe it or not, it was again the hottest part of the day. Darting was necessary at this point so we zipped from tree to tree, pushing others out of the way when needed, so we could enjoy some shade...and a carousel ride
After all that, the Jeu de Pomme was closed... No Water Lillies... No Starry Night... But it turned out that was okay, because we had changed our focus to finding a bathroom
A little more time on the Champs Elysées and then back to the Eiffel Tower to purchase some sort of souvenir that Mary wanted...
Then we split up. This seemed risky since Jim had not quite mastered the Metro yet, but Ellen took three of the kids back to the campground and Jim went to pick up Caroline at the train station, sad inscription on the wall at the station if you know French:
All went well and at the end of the day we were sitting at our plastic tables under our awning when Jimmy saw a "hamster" run by. No picture of that....
Posted using BlogPress from my iPad 2
Location:Paris, France